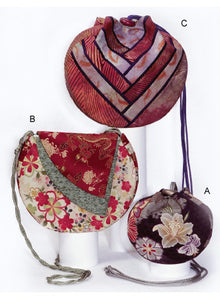 This one pattern and set of instructions will enable you to make any of the three variations of the Circle Bag,
>the 8-inch Circle Bag A with slide closure,
>the 10-inch Circle Bag B with double asymmetrical flaps, or
>the 12-inch Circle Bag C with the half log cabin block and slide closure.
Many types of fabrics can be used for the bags: cotton, denim, velvet, quilted fabric, silk, hemp, and linen.  Be creative with the lining fabric, because the bags are reversible.  You can make the bags in just one fabric, or you can mix and match fabrics for the bag outside, lining / reverse side, and gussets.  For example, the front/back sections of Circle Bag B could be made in four different fabrics, plus the gussets.  Flip the flaps, and you can get four different looks!