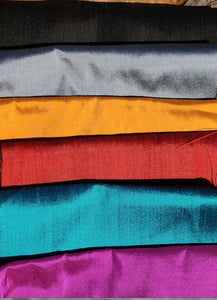 All of these silk kits are luscious!  The colors are vibrant and deeply saturated with a wonderous sheen.  Can you tell this is my favorite all time fabric?  There might be a combination of the smooth and rough (duponi) silk. 
For doing any kind of piece work, try our silk fusing.  It is what the Thai sewists use.  No one can beat our price of $6.50 for a 39 X 60. 
Each package contains 6 silk measuring 9 in X 40.